When building a workstation for Adobe Premiere Pro, it is essential to select the right CPU and GPU for your needs. Although GPU acceleration is gaining popularity, the CPU still has a significant impact on system performance.
However, it's important to note that just because a CPU has more cores doesn't mean it will perform better, since Premiere Pro cannot effectively take advantage of an unlimited number of cores. Therefore, a relatively standard CPU will easily outperform a dual Xeon workstation at a much lower cost.
Best CPU for Premier Pro
The best CPU for Premiere Pro depends on your budget and the tasks you will perform. Intel's Core i9 13900K is great for workloads primarily using H.264 and H.265, while AMD's Thread Ripper Pro 5975WX and 5995WX are best for working with RED footage. Additionally, benchmark performance for different CPUs should be considered instead of choosing a CPU based solely on its core count.
AMD or Intel for Premier Pro?
AMD is currently stronger in terms of live playback and exporting performance in Premiere Pro, but Intel's Core processors (particularly the new 13th Gen models) are great options because they perform closely to a similarly-priced AMD Ryzen CPU and include Quick Sync. Premiere Pro CPU Benchmarks.
GPU Acceleration in Premiere Pro
Premiere Pro benefits greatly from using a GPU, especially for GPU-accelerated effects and exporting to H.264/HEVC.

For most users, there isn't much of a difference between various NVIDIA GPUs, but the more GPU-accelerated effects you use and the faster you want to export to H.264/HEVC formats, the greater benefit of using a higher-end card.
How Much VRAM for Premier Pro?
The recommended VRAM capacity depends on the resolution of your sequence. However, starting with at least 6GB is ideal for up to 4K resolution.
| | | | | |
| --- | --- | --- | --- | --- |
| Sequence Resolution | 1080p | 4K | 6K | 8K+ |
| Minimum VRAM capacity | 4GB | 6GB | 8GB | 12GB+ |
While Premiere Pro can technically use multiple GPUs at once, it's better to use a single higher-end card rather than multiple lower-end cards since there are minimal performance gains with multiple cards.
Quadro GPUs for Premier Pro
Although Premiere Pro works well with a Quadro card and has more VRAM, a GeForce card is often a better option because it is more affordable and can match or beat the performance of Quadro cards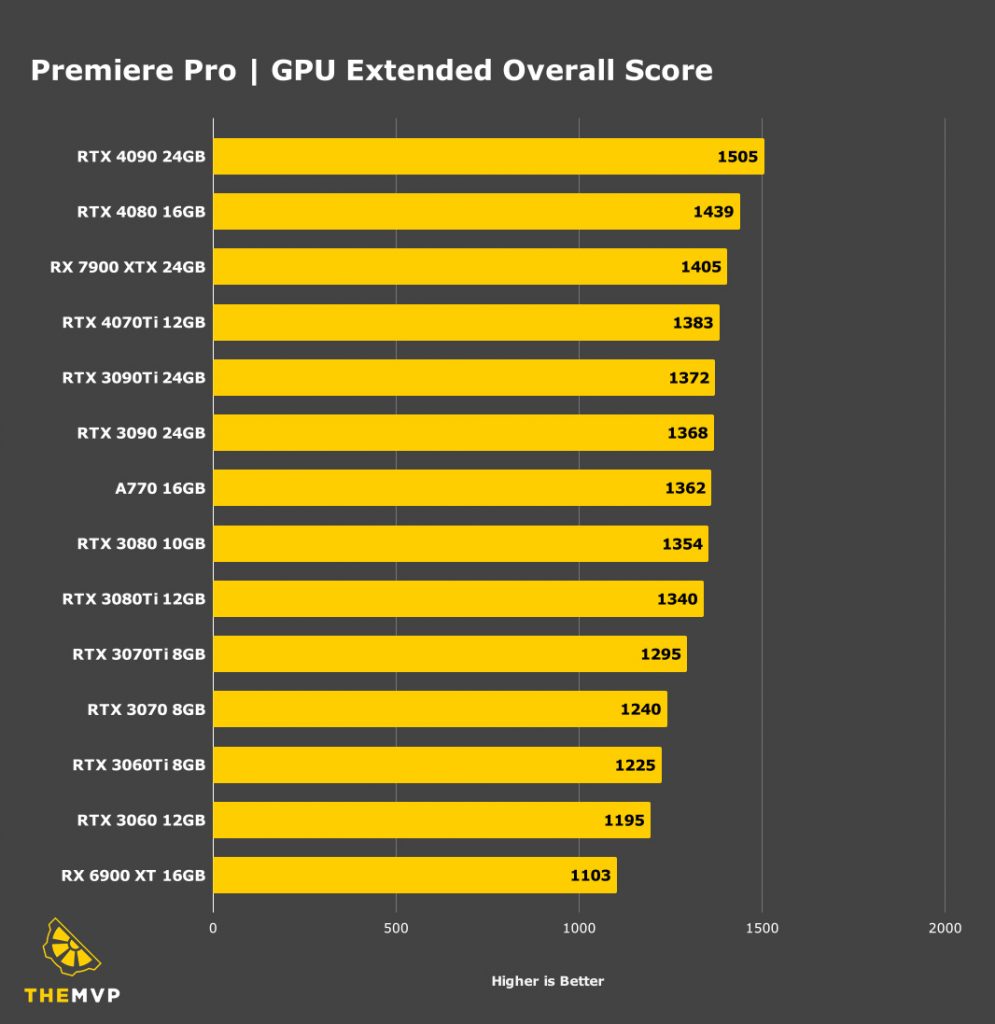 Check out our catalogue of optimised Premiere Pro builds here.
RAM Required for Premiere Pro
The RAM required for your project on Premiere Pro mainly relies on the project's length, codec, and complexity. We generally suggest a minimum of 16GB of RAM to accommodate Premiere Pro's memory usage, which can escalate quickly.
| | | | |
| --- | --- | --- | --- |
| Footage Resolution | 1080p | 4K | 6K/8K+ |
| Minimum RAM capacity | 16GB | 32GB | 64-128GB |
To avoid any shortage of system RAM, it is better to take 'more than you think you need'. Also, if you're working with several programs simultaneously – that would again shoot up the RAM requirement, as each program requires its own share.
Best Storage Configuration for Premier Pro
The most overlooked part of every video-editing workstation – storage drives come in three forms – SATA SSD, NVMe SSD, and Hard Drive – use the configuration mentioned below to speed up your workflow and also save your dump.

SATA SSDs for storing your OS, applications & project files

Another NVMe SSD – recommended for high bitrate footage & setting up cache folder in Premiere Pro.

Traditional disk Hard Drives to store old footage dump.
Check out our list of recommended configurations for Premier Pro here
We build and ship Custom PCs across India with up to 3 years of Doorstep Warranty & Lifetime Technical Support. We have 3 stores in Hyderabad, Gurgaon & Bangalore. Feel free to visit them or contact us through a call for Consultation.