Usually, the FAQ section of the official OTOY website contains information about OctaneRender's system requirements. However, in terms of performance recommendations, the information provided there may be out of date.
To address this, we ran our own tests to determine the best hardware for running OctaneRender. As a result, we have developed our own list of recommendations.
How to choose CPU for Octane Render
In Octane Render, as is typical with other GPU-based rendering engines, the central processing unit (CPU) does not have a direct impact on the scene rendering process.
However, the CPU does play a role in certain calculations involved in the preparation for rendering, such as during the intervals between frames in an animation.
Based on our testing, the clock speed of the CPU has a greater influence on its performance with OctaneRender compared to the number of cores. This aligns with the CPU requirements for other programs frequently used with OctaneRender, such as Maya, 3ds Max, and Cinema 4D, which also perform better with high clock speeds.
If you also use other programs, especially CPU-based rendering engines, it may affect the type of system you need.
In such cases, you can reach out to our subject matter experts for personalized advice.
In addition to performance, the number of PCI-Express lanes supported by the CPU is also important to consider, as it affects the number of video cards that can be used, which has a major impact on Octane Render performance.
Best CPU for Octane Render?
As noted earlier, the CPU itself does not have a direct impact on OctaneRender's rendering performance. However, it determines the number of video cards the system can support, which does affect performance. Here are a few of our recommendations:
AMD Ryzen 7 7700X 8 Core – This is one of the highest clock speed CPUs available and performs well with OctaneRender and modelling/animation applications. It also supports dual video cards and other standard hardware devices (NVMe drives, etc.) with its sufficient PCI-Express lanes.
AMD Threadripper PRO 5955WX 16 Core – AMD's Threadripper PRO processors have far more PCI-Express lanes than the more consumer-oriented models. With the right motherboard, this CPU can support up to four video cards in a single tower workstation. Although the overall platform is more expensive, the ability to use three or four high-end GPUs in a single system can be beneficial in many workflows.
GPU Requirement for Octane Render
The video card is the most significant factor in determining performance for Octane Render. There are two key components of a video card that affect render performance:
the GPU's raw speed and the amount of memory on the card. The amount of memory impacts the complexity of scenes that can be rendered. GeForce cards generally have good performance and enough video memory, while Quadro cards come with more VRAM but are much more expensive. Our recommendation is to use GeForce series cards for most Octane users.
Best GPU for Octane Render
GeForce RTX 4080 16GB – A great option if you need one or two video cards and are not working with extremely complex scenes. It also comes with a blower-style cooler, making it possible to use multiple cards if desired.
GeForce RTX 4090 24GB – Our preferred recommendation for most GPU rendering customers, the RTX 4090 offers excellent performance in Octane and comes with an impressive 24GB of memory.
NVIDIA RTX A5000 24GB – For those looking to use multiple video cards in the same system, NVIDIA's professional GPUs are a solid choice. The RTX A5000 is the top-end card that can be installed in sets of four in large tower and rackmount chassis within the constraints of a 1600W power supply.
If you require even more memory, the RTX A6000 with 48GB of VRAM may be an option, although it may be limited to three GPUs.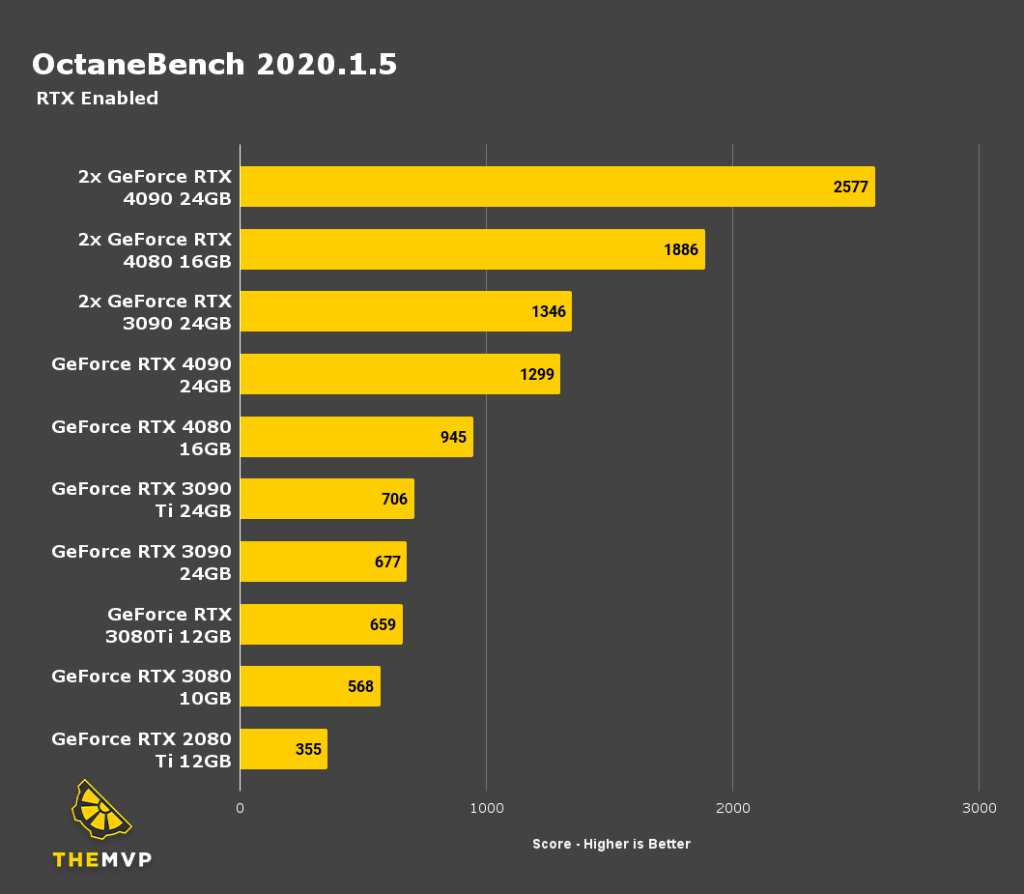 Quadro GPUs for Octane Render?
While the cost may be higher, there are certain benefits to using NVIDIA's professional-grade video cards for OctaneRender. These benefits include:
More video memory with options up to 48GB with the RTX A6000
Better support for multiple GPUs with the use of blower-style cooling systems and limited power consumption
ECC memory on higher-end models for added stability
Does Octane Render support multiple graphic cards (GPUs)?
Octane Render has excellent scaling capabilities across multiple video cards. However, the cooling systems on GeForce cards are not optimized for multi-GPU usage. The best performance can be achieved by using variants with blower-style cooling systems, which are most commonly used on NVIDIA professional cards.
To get optimal rendering performance with multiple GPUs, a larger chassis, a robust power supply, and adequate airflow from case fans are also necessary.
How much RAM do you need for Octane Render?
The amount of RAM needed for OctaneRender depends on the complexity of your projects and any additional programs you are running concurrently. However, a minimum of 32GB of RAM is recommended for OctaneRender and GPU rendering in general.
It is important to keep in mind that 3D modelling programs, such as Cinema 4D, Maya, or 3ds Max, will also consume system memory based on the complexity of your scene.
Storage drive for Octane Render?
For the best performance, it is advisable to use solid-state drives (SSDs) for the primary drive that hosts your operating system and the OctaneRender installation. The fast transfer rate of SSDs, particularly NVMe SSDs, allows for faster booting, application launching, and file loading. If budget allows, a second SSD to store active projects can further improve load and save times. A primary drive with a minimum capacity of 500GB is recommended to avoid the need for an upgrade in the near future.
What type of drive is recommended for data storage and backup?
For long-term storage and backup, traditional hard drives or external drive arrays are a more cost-effective option compared to SSDs. Network-attached storage systems are a good choice for this purpose as they can be shared among multiple workstations and often provide data redundancy features.
Check out our catalogue of optimised Octane Render Builds here
We build and ship Custom PCs across India with upto 3 years of Doorstep Warranty & Lifetime Technical Support. We have 3 stores in Hyderabad, Gurgaon & Bangalore. Feel free to visit them or get in touch with us through a call for consultation.